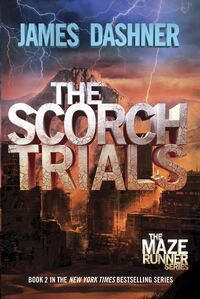 This month, we are reading the second book in The Maze Runner trilogy, The Scorch Trials, by James Dashner!

Solving the Maze was supposed to be the end. But WICKED isn't done yet. Phase Two has just begun. The Scorch.

There are no rules. There is no help. You either make it or you die. The Gladers have two weeks to cross through the Scorch—the most burned-out section of the world. And WICKED has made sure to adjust the variables and stack the odds against them.

Read the book with us before the movie comes out next month!

Discuss the book HERE!

PSSST! Want to check out past book clubs or know what we're going to read next? Click here!


For more The Scorch Trials forum discussions...click here!

Vote in more polls here...



Create blog post
Canada Study Permits

Canada has been considered as one of the global "hot spots" to pursue higher education for overseas students and immigrants, there is huge …

Read more >

The Scorch Trials MOVIE will be out on September 18...and we can hardly contain our excitement. In our countdown to the premiere and in honor of our The Scorch …

Read more >
See more >